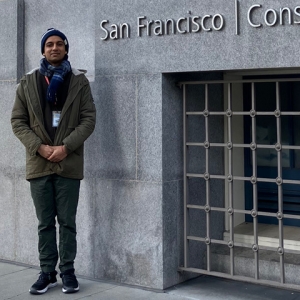 I am thrilled to be a recipient of a Theme and Variations Foundation award in 2022! It is a dream come true to receive the generous support of the Foundation. I have admired all the previous recipients as role model musicians for many years now.
In 2022, I completed my Bachelor of Music (Performance) Honours degree with First Class Honours from the Sydney Conservatorium of Music studying with Dr Paul Rickard-Ford and my research supervisor Mr Lewis Cornwell. It was an honour to study with such esteemed faculty of the Sydney Conservatorium. I was overjoyed to conclude my undergraduate studies with a graduation recital of youthful Romantic and Twentieth Century works by Strauss and Shostakovich. It was also a joy to write my first research thesis on the contributions of the lesser-known Czech composer Antonin Reicha to the development of fugue treatise in the early Nineteenth Century.
I was also very excited to be awarded two George Henderson merit scholarships in 2022. The first was awarded to attend the 11th Summer International Piano Academy in Disentis in Switzerland from late July to early August. There I took masterclasses with Professor Andreas Groethuysen, the Head of the Keyboard Department at the Mozarteum Universität in Salzburg, Austria. The second was awarded to participate in the Winter Term in January 2023 at the San Francisco Conservatory of Music in California, which I am currently attending. I am taking classes with Professor Joseph Stillwell on making piano reductions of symphonic scores and classes taught by managers of the internationally acclaimed Opus 3 Artists Management company on the ins and outs of artist management. These scholarships have enabled me to visit Europe and America for the very first time!
It has been an immense privilege to participate in these international exchange programs as it is an invaluable opportunity for me to learn from legendary concert artists, be inspired by the most promising young musicians and acquaint myself with the rest of the 'musical world'.
Over the holiday break, I am looking forward to preparing for further postgraduate studies at the Sydney Conservatorium of Music.
Wishing you all a very Happy New Year! 
Eklavya – writing from the San Francisco Conservatory of Music Bowes Centre on the 14th of January 2023.