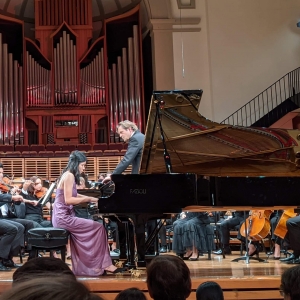 Since my last update, I have had a few performance highlights and achieved some milestones. One of them was performing a sold-out concert of Chopin's Piano Concerto No 2 with the SCM Symphony Orchestra. The other was completing my Bachelor of Music course and Honours thesis submission.
This year I was fortunate to have had several recital and performance opportunities in and around Sydney. It was motivating to re-immerse myself back into the performance preparation process after coming out of a challenging lockdown period. Early in February I performed a recital in the Southern Highlands Arts Bundanoon Music At Ten concert series. It was my first public recital in a considerable while and I presented an eclectic program featuring some less-performed treasures including Bartok's Dance Suite and Janacek's In the Mist. I am particularly enthusiastic about presenting rarely-programmed works and sharing my discoveries with audiences.
In the middle of the year, I played in a series of concerts in the Southern Highlands and South Coast in preparation for a five-day piano festival Encuentros Españoles curated by my teacher, Natalia Ricci. It was an immensely educational few months engaging in an intense all-Spanish project. This project really allowed me to delve into and familiarise myself with the idioms of Spanish music in a way that I had not had the chance to previously. The core of it was understanding the inner rhythms and characteristics of different types of dance and flamenco and how I could colourfully express these elements through the piano. It was a challenging commitment, especially the pieces from Albeniz's Iberia. Because the music is often so festive and exuberant it is very enjoyable to play and listen to.