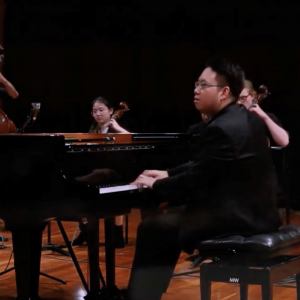 So much has happened since 2016. I studied for my Masters Degree at the Juilliard School from 2018-20, returning to Sydney in May 2020 during the Covid-19 outbreak, and confined to home. I felt scared, confused and worried about my future. How on earth was I going to be able to keep my studies or get a job perhaps in teaching, getting in performing, whilst everything was shut down?
It started in August 2020 when restrictions in Sydney eased slightly, I was desperately hoping to do some performances after being locked at home for about 3-4 months. I rounded up some of my friends and set up a small-sized chamber orchestra of about 20-25 people, we rehearsed and recorded a program of Brahms 'Symphony no. 3 (movements 2 and 3), Pavle Cajic's newly written Octet called 'San 'and finishing with Mozart's Piano Concerto no. 23, which I conducted from the piano. It was truly a remarkable experience to conduct a small orchestra whilst playing the solo piano part, as I felt myself totally immersed inside the music and heightened my sense of listening.
In 2021 things began to open up and I eventually got myself several concerts, one in Phoenix Central Park, one in the Polish Embassy Canberra organised by the Friends of Chopin Australia, one in Cooma as part of the Snowy Arts Council and many others. I performed for the first time the complete 4 Ballades of Chopin, which was quite an undertaking. I found the experience of performing the 4 Ballades on stage, a dramatic difference to practising it. One can get so emotionally involved in these masterpieces, that one will lose oneself in the stamina and instrumental control. It took me until the 3rd performance of the 4 ballades to really master them. In 2022 March I was selected as one of the 8 pianists to perform in the Charles Wadsworth Piano Competition in Atlanta, USA, where I premiered my own solo piano transcription of Strauss's Dance of the Seven Veils (from Salome) as well as works by Szymanowski, Chopin, Ravel and Beethoven's Violin Sonata no. 7. In October I was selected to play in the Rina Sala Gallo Piano Competition, in which I performed in the beautiful Villa Reale in Monza, Italy.
During this time, I began devoting time to teaching and being a collaborative pianist, working with different instruments. I was invited to play for the Kendall Violin Competition in March 2021, did a couple more concerts, more freelance work for the Sydney Conservatorium, SSO fellowship auditions etc. This eventually led to me being offered a causal collaborative piano staff position at the Sydney Conservatorium. This past few months were hectic, as I took on the Recital Preparation Course, rehearsing and coaching the string players for their recitals. I played for 9 students 'recitals, each of them playing at least a full sonata or work by Franck, Debussy, Poulenc, Ravel, Elgar, Mozart, Brahms, Stravinsky, as well as a concerto and a virtuosic piece.
Opera is my other passion, in which I often sit at home to play and sing through operas from Donizetti to Verdi to Puccini, Wagner to Strauss, etc. I wanted to
pursue this work and thus I was called in to audition for a repetiteur at Opera Australia, where I was immediately accepted. I now work as a contract repetiteur/vocal coach/music staff at the Opera Australia, in addition to the Sydney Conservatorium. I began my first contract in June, working on Madame Butterfly with Maestro Carlo Montanaro. My job was to play for production rehearsals under the conductor, the Sitzprobe, the principal singers 'coaching sessions, assist the conductor during the stage orchestral rehearsals and full dress rehearsals before the opening night. This is a truly different musical experience for me, as I was not working with myself or other students but professional singers and conductors. This work also made me experience all the behind scenes of what goes through in preparing an opera performance.
This week I performed a solo recital in the Annual Glebe Music Festival in Margaretta Cottage, with 2 weeks notice. It was an intimate setting in a private home and I played on an antique piano made in the 1870s. The piano timbre is very delicate and kept in good condition, that unique sound allowed me to explore the freedom of the music and an exploration of a sound world back into the past. I performed Beethoven's Sonata Op. 101, 2 pieces by Liszt and the Polonaise-Fantasie and Ballade no. 4 by Chopin. I began to realise all these years, most young students and musicians become so focused in our work and our own ambitions, that we easily forget the reason why we do what we do. It was only when I started teaching and coaching other instruments in accompanying, I was able to bring my years of musical skills and knowledge out to the community, which in turn made me a better musician as I reflect on my practices and performances. That is the same for performing in concerts. The purpose of a concert is to enhance and enrich the audience's enjoyment and experience through the music.
I would like to thank again the Theme & Variations Foundation for their generosity for supporting young artists! They are among the very few organisations who truly understand what big steps and risks one must undertake before launching their musical work and talents in the world after years of hard work and studies. I am in admiration of their aims and works in helping other young artists getting to where they want to be and I wish the newly Foundation Award recipients all the very best for their careers.