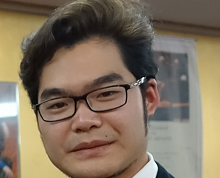 August 23, 2015
Tony Lee was one of three a recipients of the first Theme & Variations Foundation awards in 2013. Tony has just spent three months in Belgium at the Chapelle Musicale Reine Elisabeth as a soloist in residence studying with Maria-João Pires. This program is reserved for a very small number of exceptionally gifted young musicians, and his recital on Sunday August 23 showed the benefits of his training. He is fast becoming a leading pianist, not only of exceptional technique but also of interpretation.
He played works by Schubert and Rachmaninov.
After his concert at the Theme & Variations Willoughby showroom, T & V Foundation board members, Fraser McEwing and Anita Levy talked to Tony about his studies and his plans.
Fraser:
Have you been performing in Australia while you've been here?
Tony:
Apart from my performance for Theme and Variations this afternoon, I performed a solo recital in the Southern Highlands for Arts Bundanoon and in Brisbane with the Queensland Youth Orchestra, playing Beethoven's Second Piano Concerto at the Queensland Performing Arts Centre.
Anita:
What are your immediate plans?
Tony:
On Wednesday I return to Belgium to continue my Artists' Diploma at the Chapelle Musicale Reine Elisabeth with Maria-João Pires. I am a soloist in residence at the Chapelle and this is where I have been based the past year and hope to be for the foreseeable future. The Chapelle also organizes many concerts for us and through this I am able to develop through performance experience and establish contacts for the future. To coincide with this I will be undertaking a Masters degree in Oslo also. I have been very fortunate to be awarded the Theme and Variations Foundation award and the Vlassenko Prize, these have been wonderful opportunities. Pianists must take every opportunity which presents itself, any artists has to be at the right place at the right time to win recognition and become known. It's also a constant learning process.
Fraser: What was the focus of your studies this year?
Tony: I am building on my repertoire this year, focusing on the Viennese classics – Beethoven & Schubert especially. Contemporary music is a passion for me also, a couple months ago I gave the European premiere of Gareth Farr's Piano Concerto with the   BBC Philharmonic Orchestra after a successful launch of the New Zealand Symphony Series last year with the same concerto. I love Russian music also and will be performing Rachmaninov in the Wallonie Festival as well as the Russian Romantics Festival in Belgium. For that I will perform Rachmaninov's first concerto with the Brussels Philharmonic Orchestra.
Fraser:
How do you structure your practice? How much do you practise? (How much focus is on say, technique during practice?)
Tony:
Motor technique is built generally when you're younger and that more or less adapts as you get older when you need to work on more repertoire. The main work is usually on interpretation of course, when working on Schubert for example, there's a different feeling of playing his works from when you play Beethoven. There's a difference in sound – it's Viennese, and not German; how it flows, how it's phrased… Schubert can be very elegant and dancelike in mood; Beethoven also but somehow in a more rustic way. In regards to practice time, I guess it should become more efficient with time.
Anita:
Are you taught these differences and how to interpret them?
Tony: We learn from early on all the basics but perhaps living and studying in Europe helps, there are certain elements you don't attain in Australia. Much in music is in the language and culture too.
Fraser:
The Rachmaninov Sonata No 1, which you played today, is not heard often.
Tony:
I guess I like to play things less known and performed. It's our mission as performers, to do this. If there is something which touches us, it's the performer's job and joy to share that with the audience. I find audiences are usually more attentive with something fresh and are naturally more receptive, vulnerable in a way. A lot of audiences love new or unheard works but some still prefer the familiarity. I'm sure however even they also appreciate something different if it touches them.
Fraser:
(You brought out so many different voices and colours in the Rachmaninov sonata) Can you tell us about voicing? It's not normally something we hear.
Tony:
Perhaps when I was younger, I focused more on achieving the "perceived" sound I wanted.. It's difficult to explain, I guess it's important to of course have a clear idea of what you want but it's not always possible given the acoustic or instrument, so it's more important to hear what you're doing and to react to that. This is thing that the greatest performers did really well, they simply listened better. Obviously you must hear everything yourself: otherwise you can't expect the audience to hear it.
Fraser:
Do you also play composers such as Bach?
Tony:
I do but I don't perform it. It's not so natural for me to play it publicly but I hope to do it one day!
Fraser:
Do you favour pedalling Bach?
Tony:
I wouldn't use the pedal as much. The music is pure and it doesn't need too many extra 'effects' I guess. For me, Bach [music] is not so romantic in that way and there is a very spiritual element not just purely the emotional.
Fraser:
And for you, how do you relate to your music? (How does Maria- João Pires work with her students?)
Tony:
Maria encourages us to have a more direct focus on sending the message across in whatever manner. This is such an important thing of course for any performer. She does also spend time talking about different aspects of playing the piano and little details here and there also but she really wants us to be the best communicators we can be.
July 10 2014
I wish to tell you about some of the things I've been doing since we last spoke. In June I performed a recital as part of the Kawai Series at the Ian Hangar Recital Hall in Brisbane. Works included three Scarlatti sonatas, selections from Tchaikovsky's "Seasons", Liszt's Hungarian Rhapsody no. 10 and the Horowitz transcription of Saint-Saens' Danse Macabre.
Now I'm preparing for the Australian Concerto and Vocal Competition, to be held in Townsville, Queensland at the end of this month. I'll be playing Tchaikovsky's first concerto – fingers crossed!
Then I stay in Sydney before my studies in Europe in mid September, I'm very excited to be moving but have a feeling I will miss Australia very much!
I return briefly however during the winter there, in time for my recital as part of the Salon Series at the Melbourne Recital Centre. I'm very much looking forward to that, playing works that are very dear to me – six selections from the "Seasons" of Tchaikovsky as well as Rachmaninov's first piano sonata.
May 12 2014
Some of the Theme Variations Foundation Advisory Board met Tony Lee at the City Recital Hall on Monday evening May 12, at the Theme and Variations sponsored Pianists in Recital series Lukáš Vondráček concert. We were delighted to hear Tony is forging a successful career as a concert pianist. It is very gratifying to see one of our 2013 awards is assisting such a promising young musician.
Here is a letter Tony emailed later that night:
I'm writing to inform you of some of the things that have been happening for me.
I've just returned from an audition at the Chapelle Musicale Reine Elisabeth in Belgium where I have been accepted into the class of Prof. Maria Joao Pires. MJP is an inspirational musician who is recognised internationally as a leading performer and pedagogue.
Please see a recent article about me http://vlassenkopianocompetition.wordpress.com/2014/04/22/lev-vlassenko-piano-competition-festival/
I also wish to tell you of my recent concert with the New Zealand Symphony Orchestra. The premiere of Gareth Farr's concerto received favourable reviews and can all be accessed here http://sounz.org.nz/works/availability/21827#resources
Included is a NZ radio review with excerpts from the premiere performance of the 1st and final movements of the concerto.