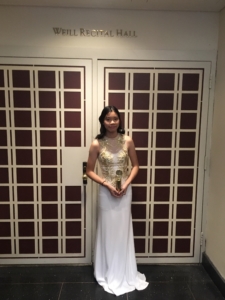 In early March of this year, I was extremely fortunate to receive an invitation to perform at the Weill Recital Hall at Carnegie, New York as a first prize winner in the Golden Classical Music Awards International Competition. Carnegie Hall is undoubtedly one of the most prestigious concert halls in the world and frequently exclusive to performances by internationally acclaimed musicians, so of course I was overjoyed and humbled to be given this opportunity, as well as being excited to travel to New York City for the first time. 
I had chosen to perform Leos Janacek's Piano Sonata 1.X.1905 'From the Street'. This is a rarely performed work in the piano repertoire. However its potent narrative and the challenge in communicating this was what had initially drawn me to learn it. Janacek composed this sonata as a tribute to a worker who was shot by political troops amidst demonstrations in support of a university on 1st October 1905 in Brno, which he himself witnessed. The titles themselves of the movements – Predtucha ( Foreboding ) and Smrt ( Death ) – already allude to its emotional intensity. 
On the day of the performance nerves were inevitable, but in the end my goal was to communicate to the audience the narrative that Janacek had intended, to make them feel the depth of emotions behind this piece of music and of course to enjoy the experience on this special stage. 
International competitions always offer the opportunity to interact with musicians with different musical upbringings and experiences and to be inspired by one another's mentality towards music-making. Feeding off the positive and restless energy that musicians have for their craft further increases my own ambitions to create better interpretations and performances every time I am onstage. 
This exciting opportunity and worthwhile experience could only be made possible with the assistance of the Theme & Variations Foundation Award. I would like to extend my gratitude to the Foundation for its generosity in continuously opening new doors for us as young pianists.