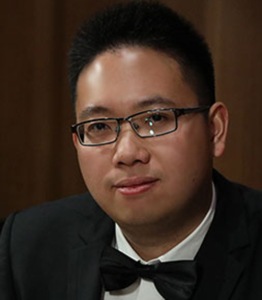 I am very honoured to be one of the winners of the Theme & Variations Foundation Award. It will assist and support me hugely in my future musical developments and plans, therefore I gave thanks to everyone involved in the Foundation particularly Ara and Nyree Vartoukian, Anita Levy and Professor Michael Brimer.
This year has been a big year for me. I travelled to New Zealand for the Keri-Keri International Competition where I was a semi-finalist; to Italy for the European Chamber Music Summer School, which I had tutorials with Alexey Sokolov and Christian Mueller on solo and chamber music repertoires and performed both the Schumann and Franck Piano Quintets with colleagues from the Sydney Conservatorium; and to Germany for the International Mendelssohn Akademie in Leipzig, which I was a recipient of the Mendelssohn Scholarship and played in a master course with world renowned teachers, Pavel Gililov and Arie Vardi.
This year had also a huge year for me in terms of repertoire. The Liszt Sonata in B minor was a piece I adored and started learning at the age of ten. This year it became a highlight of my performances, performing it publicly four times (Sonata concert at the Sydney Conservatorium, the finals of the John Allison/Henderson Scholarships, Großer Saal of the Hochschule für Musik und Theater Leipzig and finally in my 3rd year recital) and recording it in the Verbruggen Hall two times. I was also very lucky to have given the opportunity to perform the magnificent Brahms Piano Concerto no. 2 with the Sydney Conservatorium Orchestra with Eduardo Diazmunoz with great success. Other solo works throughout the year I performed in concerts and competitions include Medtner Sonata Tragica, Chopin Polonaise in F# minor, Fantasy in F minor, Etudes no. 5 and 6 Op. 25 and 3 Mazurkas, Liszt La Campanella and Harmonies du Soir, Mozart Sonata K330, Ravel Une barque sur l'ocean and Stravinsky Trois mouvements de Petrouchka, and many other smaller works too.
I had the pleasure of working with cellist and pianist Nicholas Kennedy and violinist Brian Hong, with whom we collaborated in a chamber group for a year and a half. We received top marks in our chamber exams. We played the Tchaikovsky Piano Trio, Brahms Trio in B and Arensky Trio in D minor. I have also performed and recorded the Franck Violin Sonata with violinist Yejin Min and a recital with cellist Hyung-Suk Bae performing an all-Schumann program.
Last month, I began planning my next year at the Sydney Conservatorium, which will be my last year. I will be continuing my chamber group with many more wonderful trios to play and of course continue to explore, learn and perform large amounts of great solo repertoire. To add to the challenge, I have applied for the International Beethoven Piano Competition 2017 in Vienna, which is a very tough and extremely high-standard competition and requires contestants to play only works by Beethoven. I will be doing the international selection round in Tokyo in February next year, for which I have to prepared Sonata in F Op. 10 no. 2, 'Waldstein' Sonata Op. 53 and 32 Variations in C minor WoO 80 all of which by Beethoven. Although I have performed the latter two works during my high school years, it does not make them any easier to play. However I began to appreciate the genius in the music and understand the works to a higher degree through my musical experiences over the years. I will be looking forward to preparing and working towards the international selection round in Tokyo in February next year.
That's all for now!
Kind regards,
Alexander Yau