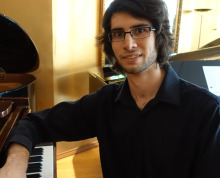 2017 was my year off study, as I did teaching work and private compositional and pianistic work in preparation for my Masters studies this year, which I am currently in the process of auditioning for.
A highlight of this year was the Voces Caelestium 5th charity concert at which I premiered another of my own compositions for orchestra and violin solo, with violin professor from Sydney con, Ole Bohn, playing the solo part and myself conducting ('Winter, Heartache and Transfiguration'). The recording for that composition (along with recordings of other of my compositions) can be found here, on my soundcloud: https://soundcloud.com/user-867944070
I auditioned for a Masters in composition at two places in London; Royal College of Music and Royal Academy of Music. I was accepted at the Royal Academy, but could not accept due to the international student fees being too large. I have also applied at three music schools in Germany, in Berlin, Munich and Leipzig. I am still waiting to hear from them as to whether I am passing to the second round of auditions.
I am currently in the UK on a BBM Youth Support scholarship supporting music-related travel in the UK. I am having piano and composition lessons in London and elsewhere. I will be heading over to Germany afterwards to do my auditions.
Best wishes
Paja