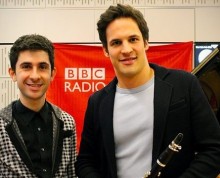 April 2015
Having recently returned from a month's travel in Europe on study scholarships, I'm left with many wonderful experiences and memories to reflect on. I was very fortunate to have received generous funding from the Theme & Variations Foundation and the Joyce Campbell Lloyd Scholarship (University of Southern Queensland). My sincere thanks go to these organisations for making this endeavour a possibility!
These scholarship funds allowed me to pursue a number of private piano lessons with sixteen different teachers in Brussels, London, Paris, Manchester and Graz. Also, I was able to spend time in Brussels with Kupka's Piano composer Liam Flenady work shopping our new work for piano and tape Si el clima fuera un banco which I will be premiering in 'Outer Sounds' on June 19th at the Judith Wright Centre of Contemporary Arts.
In addition to working with these inspiring musicians, I also gave my first UK performance, a live broadcast on BBC Radio 3 of the Brahms Clarinet Sonata in F minor with Andreas Ottensamer. Andreas and I had worked together numerous times in Australia and it was so fortunate that our schedules collided allowing us to work together again!
Reflecting on the benefits of the trip, it was extremely useful at this point in time to have the opportunity to work with so many great teachers and start to build overseas networks. It was enlightening to notice how often advice was contradicted from teacher to teacher. I gained many useful things from each lesson individually but perhaps the greatest learning experience of the trip was, in studying with so many different people, to realise just how much ideas about interpretation and pianism differ (sometimes quite radically!).
This might seem like a rather obvious realisation, but for me it was quite confronting to face on a day-to-day basis within the context of an intensive study trip. The actuality of discussing my own thoughts and ideas about the repertoire I was working on, whilst also soaking up all kinds of new ideas and approaches became something of a blur and overload of information.
Thankfully I recorded my lessons so am able to slowly go back through the files and incorporate new ideas into my practice. Speaking more broadly, I feel now that in approaching whatever music I'm playing, more of a need to have formulated a very thoroughly structured approach to every facet of the interpretation. This was already how I approached repertoire prior to the trip; but I hadn't ever had to so consistently validate, justify and discuss whether the ideas I had worked into my interpretations were as successful as they could be.
Within the Australian music scene and my generation of colleagues in particular, there is a common conception that 'the grass is greener' on the other side of the world and that further studies in Europe or America is a logical progression for a serious young musician. I found it was really useful to have this taster (albeit brief) of overseas study.
It was very interesting to catch up with some very talented and entrepreneurial colleagues and friends and discuss how they have facilitated working in a new country having come from Australia. Without coming to any real conclusion or concrete opinion on this matter, it was good to scope out future possibilities. I'm certainly not planning on leaving Australia on a permanent basis anytime soon.
Whilst overseas I saw some really fantastic concerts! Some highlights were: Anna D'Errico & Ian Pace performing Enno Poppe's Thema mit 840 Variationen and Lost by Richard Barret, the Berlin Philharmonic Orchestra & Leonidas Kavakos playing the Sibelius Violin Concerto, Klangforum Wien presenting new works by young composers (particularly interesting were the pieces by Wojtek Blecharz and Ashley Fure), Louie Lortie performing Preludes of Faure and Scriabin, London Philharmonic Orchestra in Scriabin's Poem of Ecstasy and Belle Chen in 'Kiss of the Earth'.
I would like to conclude by acknowledging the numerous people that made the trip such a stimulating and maturing experience, and for being excellent people. There wasn't a dull moment! Whether we worked together or simply hung out in new and exotic places, many thanks to Andreas Ottensamer, to Ute Pinter and the team at the IMPULS Academy, to Liam Flenady, Hannah Reardon-Smith, Bethany Shepherd, Katherine Philp, Gian Ponte, Anna D'Errico, Christophe Matthias, Ian Pace, Aquiles Delle Vigne, Leslie Howard, Murray Maclahlan, Vanessa Latarche, Joanna Macgregor, Mark Knoop, Charles Owen, Alexandra Madsar, Rolf Hind, Christopher Elton, Peter Hill, Pascal Nemirovski, Francoise Thinat, Ian Jones and Graham Scott.