May 2015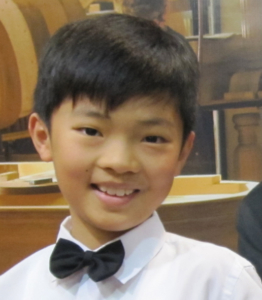 Joshua Han was one of the award winners in the Theme and Variations Foundation's inaugural assistance program for young Australian pianists in 2013.
His talent is being recognised both in Australia and overseas. Although Joshua only celebrated his twelfth birthday in October 2014, he has already established himself as one of the most successful piano prodigies to compete in the Sydney Eisteddfod.
Since making his first solo appearance at the eisteddfod in 2009, Joshua has won 14 gold medals in a variety of events, including the prestigious Kawai Piano Award (Any Age) that is coveted by pianists more than twice his age. In 2013, with his elder brother Oscar, Joshua was a grand finalist in the television talent show Australia's Got Talent. In Germany last year, he competed in the prestigious Ettlingen International Piano Competition and won the junior category with highest mark ever recorded in a competition that includes such luminaries as Lang Lang and Yuja Wang among its previous winners.
April 8 2015
From Ken Han (Joshua's father):
We are very excited to inform you the fantastic news from the Aarhus Denmark International Piano Competition.
On last Sunday early morning, the Prize Winners Concert for Denmark Aarhus International Piano Competition took place, with the prizes being awarded after the performance. After an incredible performance from all four prize winners, Joshua was awarded both the 1st Prize and the Audience Prize of Category A (16 year old or under).
A stunning achievement on his behalf, having competed against many competitors three to four years older than him.
Thanks for the support to Joshua and we will keep you updated for his further progress
January 6 2014
During the last few months I went to Gisborne to perform in the Summer Concerts, which was a great success. I also have performed a few times for The King's School.
As for the Prize Money, I have tuned and voiced my piano at home, so thank you very much for the funds that Theme and Variations Foundation have given me.