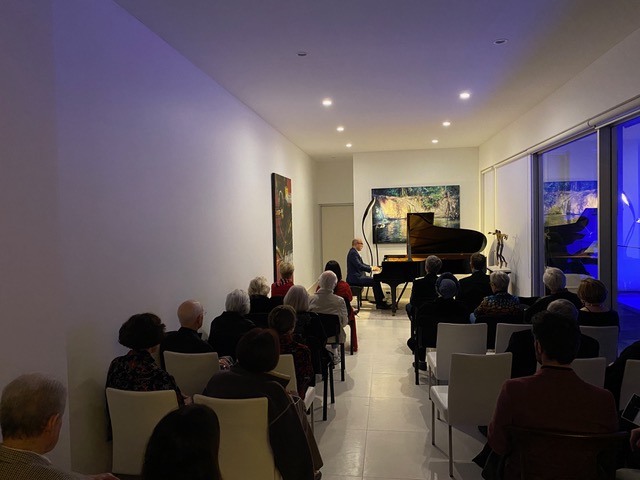 Before concerts with big audiences became the norm, musicians did most of their performing in luxurious private homes. The Foundation recalled this intimate and charming way of hearing a great pianist on 1 st July when Alexander Gavrylyuk delighted a small audience at the home of one of the Foundation's supporters.
The beautifully restored and extended terrace in Glebe was transformed into a small concert hall equipped with a Steinway model B on which Alexander played a program of Haydn, Liszt and Chopin.
Besides being among the world's leading classical pianists, Alexander (Sasha to his friends) is the Foundation's ambassador – largely in appreciation of the nurture and practical help Nyree and Ara Vartoukian gave him when he arrived in Australia as a 13-year-old student from Ukraine. It was this kind of assistance to a number of promising young pianists that ledto the establishment of the Theme & Variations Foundation.
Sasha's playing is fast becoming legendary – again confirmed by this salon recital. His take on a Haydn sonata was technically perfect, as we've come to expect, but Sasha's interpretation was, in many ways, innovative. Liszt's Tarantella has become one of his showpieces with his heart stopping technical demands and sudden calls to go from hammering chords to feather touch runs. He finished the concert with a soothing Chopin etude.