This year we publicised the awards to all conservatoria in Queensland, NSW, ACT, Victoria and South Australia, inviting applications for assistance from our foundation.
Applications closed on September 30 and were reviewed by Christine Logan and Roland Peelman. We staged live performances in the Willoughby showroom of Theme & Variations Piano Services on November 6.
The Theme & Variations Foundation is pleased to announce encouragement awards have been awarded to Brian Luo and Eklavya Mudgil.
We are always delighted to find, as we have this year, exciting, fresh talent coming through our teaching institutions.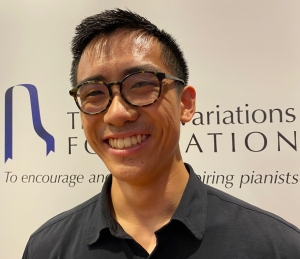 Brian Luo
21 year-old pianist BRIAN LUO is a BMus (Hons) student at the Melbourne Conservatorium of Music, studying with Glenn Riddle. He previously studied with Prof David Lockett in Adelaide and Patsy Toh at the Purcell School in London. Awards include the MCM Pearis Rodgers Scholarship, the MCM Katherine Ellis Memorial Scholarship, the MSV Hephzibah Menuhin Piano Award, the MRC's Elisabeth Murdoch Prize as well as 1st Prizes in 3MBS's 'The Talent', the Boroondara Concerto Competition and the MCM Concerto and Aria Competition. In 2022 Brian performed Rachmaninoff's Piano Concerto No 3 with the MCM Symphony Orchestra at Hamer Hall with the Camerata Orchestra.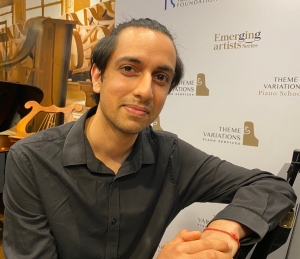 Eklavya Mudgil
Born in Delhi and raised in Sydney, Eklavya Mudgil began playing the piano at the age of 12.  He is currently studying a Bachelor of Music (Honours) Performance degree at the Sydney Conservatorium of Music with Dr Paul Rickard–Ford. He was nominated for HSC ENCORE in 2018 and awarded the John and Dorothy Vimpani Pianoforte Scholarship in 2019. He was a finalist in the Piano Department's Concerto Competition in 2020 and has attended masterclasses with Professor Christian Wilm Müller and Professor Andreas Groethuysen. He was awarded a George Henderson Scholarship in 2022 to study in Switzerland.