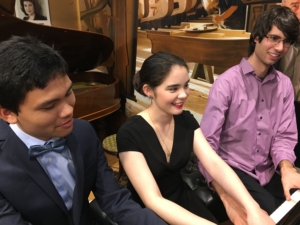 On October 30 2018 we held our annual major fundraising musical event. This time we asked three of our brilliant young award recipients to put together a joint recital. We wanted to show our donors just how worthwhile their support is, and that only with their generosity can the Theme & Variations Foundation discover and financially assist such exceptional young Australian pianists.
While not all of our winners will become professional concert pianists, there is no doubt that they will make significant contributions to Australia's musical life.
2014 award recipient, Pavle Cajic, demonstrated that he is already an accomplished pianist when he played a transcription of Mozart's Symphony No 41. Then he delighted the audience with a performance of his own composition, Ballade for flute and piano. Sydney Conservatorium student Chloe Chung played the demanding flute part of what is a milestone composition in this genre. Professor Michael Brimer commended the two performers for playing this 17-minute piece from memory, demonstrating their commitment and skill.
Rachael Shipard, one of our recipients from last year, showed her growing maturity and technique when she began with a Haydn sonata and followed it with Busoni's 10 Variations on a Theme of Chopin, a fearsomely challenging and seldom heard work she 'discovered' herself.
The third pianist, another award recipient from 2017, was Calvin Abdiel who performed a variety of short piano works by Albeniz, Liszt, Scarlatti and Bizet. He then blew the audience away with his Scriabin Sonata No 5. One seasoned music lover declared he'd never heard it played better.
The three young pianists then finished with a surprise by all sitting down together at one piano and playing Rachmaninov's Romance for six hands from his Valse et Romance (for piano six hands).
The evening concluded with a light supper during which time our audience members had an excellent opportunity to chat with each of the three performers. This was a delightful evening, and our young performers impressed everyone with their artistry and their enthusiasm.
Music review by Fraser Beath McEwing
Sydney Opera House Concert Hall, Sydney Symphony Orchestra
29 August 2018