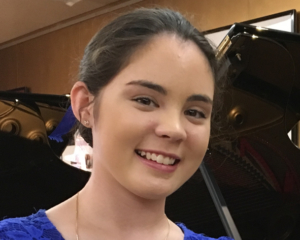 I am very excited about the Canberra International Music Festival! Thanks to the Theme and Variations Foundation and the Festival Director Roland Peelman, I have been invited to participate as the one of the Festival's Young Artists. I will be playing in a masterclass with Roger Woodward, give a lunchtime solo recital at the National Gallery of Australia, and play a chamber work as part of another concert.
Roger Woodward is an acclaimed Australian pianist and I am looking forward to working with him on some of my current repertoire. I am sure he will provide me with many original ideas that I will enjoy exploring and weaving into my own interpretations of my pieces. I also hope to gain some insight into his thought processes behind his personal musical choices and how he conveys this to his audiences.
My recital will be on the 3rd of May and I will be playing an all-Busoni program: his transcription of Bach's Chaconne in D minor, followed by the 10 Variations and Fugue in free form on Chopin's Prelude in C minor, Op 22. Both of these compositions are based on well-known pieces in their own right: the Chaconne being the final movement from Bach's Violin Partita No 2 in D minor, and the C minor Prelude is No 20 in Chopin's set of 24 Preludes, Op 28. I hope I will be able to make it an enjoyable afternoon for everyone present in such an interesting venue!
The chamber work that I will be performing in the 'Ulysses Now' Concert on May 2 is titled 'Angelus', written by Mary Finsterer for clarinet, cello and piano trio. This is a fairly new work, written and premiered in 2015 by the Melbourne based group, Ensemble Liaison. The Angelus is a traditional Catholic prayer said at 6am, 12noon and 6pm each day – and Finsterer's composition is based on the famous Millet painting of the same name. The music is also inspired by Gregorian chant, one of the gems of the sacred music tradition. The other musicians for this trio will be (clarinet) and Stephanie Arnold (cello), both of whom I am excited to meet and work with. The composer Magdalenna Krstevska will also be present, which will make the experience even more worthwhile – it is a rare thing for me to be able to play the compositions directly to the composer and receive their invaluable input!
I have also been invited to stay for the rest of the Festival, until May 6, so I will be able to mingle with the other musicians, and soak in the Festival atmosphere! I am very keen to hear some of the spectacular concerts on offer, such as those from the Orava Quartet and Keiko Shichijo. I am very grateful to the Theme and Variations Foundation for this opportunity and I hope to make the most of it!