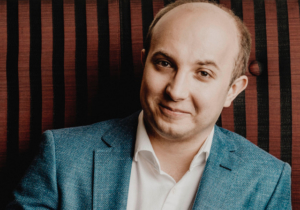 A moving feast of Johannes Brahms.
The Sydney Symphony Orchestra devoted its prowess to a whole program by one composer in the APT Master Series concert last night. And while that didn't cast a wide musical net, it delivered an outstanding experience for those who are partial to Johannes Brahms.
The concert predictably began with the popular Academic Festival Overture Op.80, but then, when one might have expected a symphony in the mix, presented two concertos with kind-of-adopted Australian soloists.
Brahms composed the overture in response to being awarded an honorary philosophy doctorate in 1880 from Germany's Breslau University. He sent a thankyou card in the form of a concert overture based on four university drinking songs. This is stirring tankard music, calling for a substantial orchestra with plenty of action in the percussion department and some robust statements from the brass. The overture is an optimistic mood setter, which the orchestra, under an enthusiastically swooping David Robertson, passed on to the audience.
With the warm-up done, it was time for two leading members of the SSO to leave the peloton and take up positions in front of the orchestra. Violin and cello principals, Andrew Haveron and Umberto Clerici, were the soloists in Brahms Concerto in A minor for violin, cello and orchestra, Op.102. There are many members of the orchestra who could have careers as soloists, but opt for orchestral tenure. Haveron and Clerici are two such musicians. It was a real treat to see them in concerto mode.
Brahms double concerto poses quite a challenge of coordination, because each of the three parties (two soloists and conductor) has to know exactly what the others are doing. It makes sense to draw soloists from top orchestral posts where they (to borrow a pre-school expression),"play well with others."In this case, the two men combined like siblings and were also able to project above and beyond the orchestra (what they usually must not do) in this engrossing concerto. And while both exuded assured techniques with rich tonal delivery, I was particularly taken with the way Clerici abandoned himself to the music. He was almost as engaging to watch as to hear. The audience responded to the performance of the work with the kind of affection reserved for family.
During interval the furniture was rearranged to make way for the Steinway Model D to be played by Alexander Gavrylyuk in Brahms Piano Concerto No.1 in D minor, Op.15. I had the good fortune to hear Gavrylyuk practising this concerto last week. He was siting at another Steinway in Theme & Variations showroom in Willoughby and, although the piano lid was closed, I was in awe of the power he generated. This is what is required for the Brahms, along with a definitive reading, of course. Gavrylyuk told me that he rated this work among the greatest of piano concertos and marvelled that Brahms was only in his early twenties when he composed it. He added that the Wednesday performance would be the first time he'd played it in public.
Although Alexander Gavrylyuk was born in the Ukraine, he spent his formative years in Sydney and became an Australian citizen when he turned 18. He is now ranked among the most sought-after pianists in the world, with a string of stellar performances and rave reviews to his credit. You can find his exhilarating rendition of the Rachmaninov third at last year's London Proms on You Tube.
With all this as an aperitif, I couldn't wait to hear what he'd make of the Brahms. In a word, I was gobsmacked. I opened my box of superlatives and couldn't find anything good enough to describe his playing – not to forget the support he had from David Robertson and the SSO with precision and matching passion.  While Gavrylyuk's technique seemed to have no limits, it was his interpretation of this concerto that made it the best Brahms No. 1 I've heard, live or recorded. There were moments during the slow movement that almost moved me to tears, and when he laid into what are some exceedingly demanding passages in the first and third movements, I wanted to fly. This was high voltage, inspirational stuff that comes along very rarely.
Music review by Fraser Beath McEwing
Sydney Opera House Concert Hall, Sydney Symphony Orchestra
29 August 2018